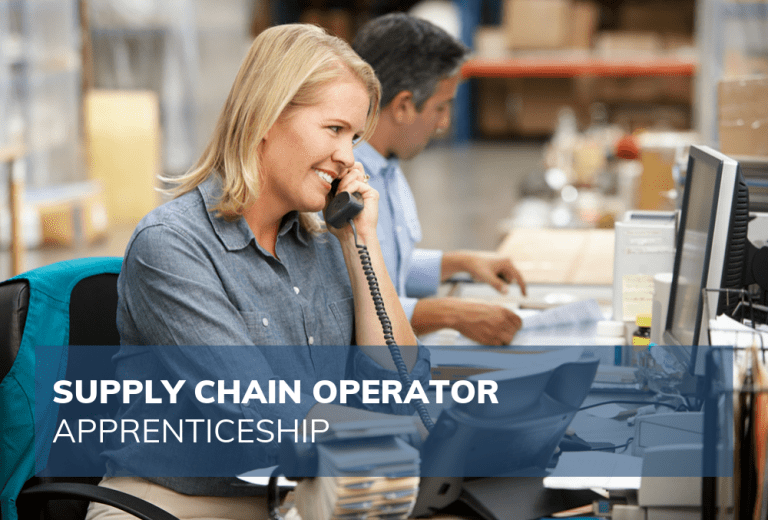 This is an entry-level apprenticeship which provides the foundation knowledge, skills and experience for the role of Supply Chain Operator (Traffic Office) within occupational areas in the Supply Chain industry.
Role Requirements
Traffic Office Clerks are primarily responsible for managing the movement of goods for a variety of customers across all sectors, and as such their customer base will range from large global organisations to sole traders and private customers in local areas, depending on their organisation.
Traffic Office Clerks communicate and come into contact with a wide range of people and customers and have a passion to meet customers' expectations by providing a quality service that encourages repeat business, showing drive and energy even when challenges arise. Individuals in this role are highly competent in using industry-recognised systems and associated services within their industry sector and are able to work under pressure to tight deadlines, with excellent time management skills. They are proactive and meet agreed commitments and expectations, taking responsibility for their own actions and doing the right thing.
Duration
The duration of this apprenticeship is minimum 12 months followed by an end point assessment, which includes an observation in the workplace and a knowledge and behaviours test. Apprentices will need to have achieved English and maths at Level 1 and have taken the test at Level 2 before being entered for the end point assessment.
Employer Commitment
Employers must be prepared to provide apprentices with the opportunity to carry out work and be part of projects which will enable them to produce substantial evidence towards their qualification. This will be delivered during the 20% off the job training. Employers will be required to participate in joint reviews of the learner's progress at regular intervals throughout the apprenticeship. This ensures continued and positive progress and provides the opportunity to discuss and agree how any issues are to be resolved and how additional stretching and challenging activities can be included.
Government Funding
This apprenticeship attracts government funding. TRS Training Ltd is able to access funding for levy and non-levy paying organisations.
TRS Training Ltd can deliver this apprenticeship programme throughout the UK.
Training Structure
Apprentices will attend 20 half day theory sessions which are delivered via a virtual classroom in their workplace. They will receive one to one tuition, guidance and support from their personal trainer. They will be required to complete online learning modules and construct a portfolio of evidence to demonstrate their emerging knowledge, skills and behaviours.
Learning Outcomes
Regulations and legislation (including international where relevant to role)
Communication techniques
How to deal with customers and meet their expectations
Traffic office skills
How to plan routes and jobs, re-planning and amending jobs when circumstances change
Types of equipment and vehicle and when to use them to minimise environmental impact
Transport Management System (TMS) and other relevant IT systems
How to organise and allocate resources to jobs
The safe use of equipment and machinery (such as manual handling equipment, vehicle and delivery systems) to provide briefs to colleagues
How to process goods when returned to base
How to arrange vehicle maintenance and deal with any related issues
Health and safety practices
Planning routes for safe delivery of products
How to improve cost efficiencies and reduce environmental impact of work activities
How to demonstrate integrity, credibility, honesty and personal drive
Taking ownership for own performance and training
Achieving the best results, maintain a positive attitude and approach to work even when priorities and working patterns change
How to develop a commitment to achieving all personal and organisational objectives eg completing work, timekeeping, personal appearance and dress code
Making a personal commitment to minimising the effect of work activities on the environment;
Embracing the use of technology, systems and equipment
Taking a positive interest in others and show a genuine interest in meeting the needs of others
Find out more
If you are an employer seeking apprentices for an existing programme, or want to work with TRS Training to start your own Apprenticeship Programme please call 01744 809010