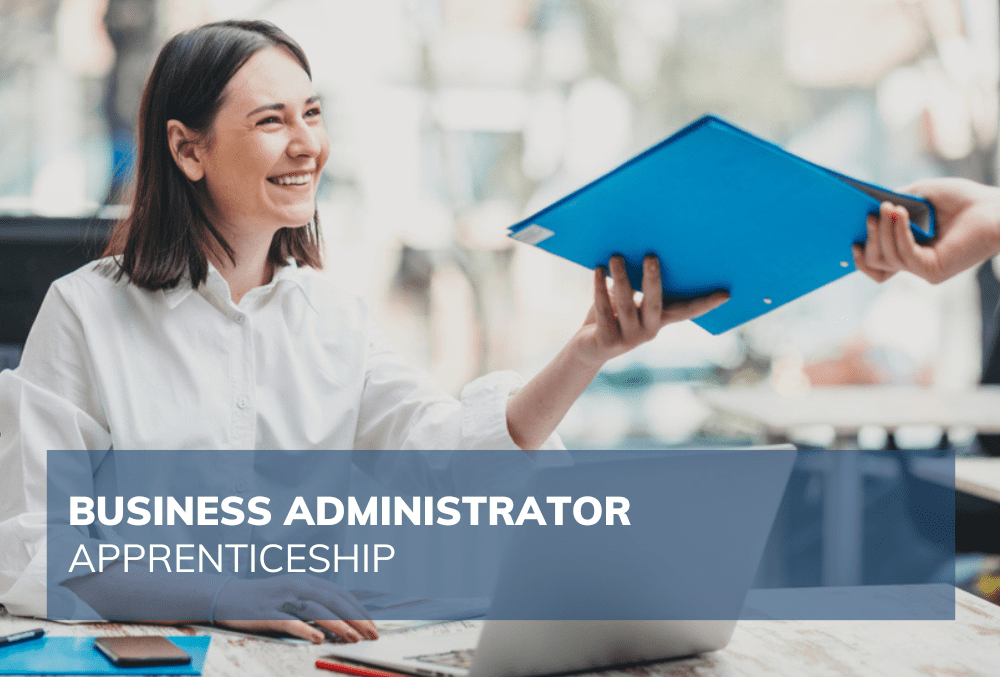 The Business Administrator Apprenticeship Standard develops the required knowledge, skills, and behaviours for developing, implementing, maintaining and improving administrative services in an organisation.
The role's responsibilities are to support and engage with different parts of the organisation and interact with internal or external customers. With a focus on adding value, the role of business administrator contributes to the efficiency of an organisation across different functional areas.
What skills, knowledge & behaviours do staff develop?
Staff develop professional competence in many areas, including
Using multiple IT packages and systems to increase efficiency, keep records, analyse data and problem-solve
Producing accurate digital and manual records, reports, files and documents in a compliant and confidential manner
Employing proactivity, good judgement, sound reasoning and the advice of others in decision making
Building and maintaining positive relationships within team and organisation
Developing good communication skills: face-to-face, phone, writing & digital
Completing tasks to high standards through expertise, consultation & continuous improvement
Managing priorities, resources and time to successfully meet deadlines
Project management
Business fundamentals
Organisational knowledge including policies, processes, relevant regulation & stakeholders
Managing own performance
Also, apprentices can improve their maths and English skills on this programme if they have not already achieved level 2 standards. TRS have specialist maths & English tutors who teach numeracy and literacy skills in industry-relevant ways.
Duration
12 to 18 months.
Structure of Apprenticeship 
Phase 1 Initial Assessment 
Applicants complete an assessment in English and maths. Their job position must provide the opportunity to gather evidence and develop competence within the standard. TRS will assess their prior knowledge and experience and long-term goals to ensure this apprenticeship is the best option for them.
Phase 2 Training  
Here, the apprentice undertakes a programme of on and off-the-job training which develops the skills of a competent business administrator. TRS tutors provide ongoing training and support.
Phase 3 Gateway  
The gateway is a review stage towards the end of the apprenticeship when the apprentice, employer and TRS trainer get together to see if additional training or skills practice is needed.
Phase 4 End Point Assessment  
The apprentice is assessed by an independent organisation to determine whether they have reached the required standards.
Progression opportunities after apprenticeships
The administration role may lead to career opportunities such as management or senior support roles.
Employer Expectations 
Employers must commit to allowing their apprentices to complete at least 20% paid off the job training to complete their studies. They will also need to provide a workplace mentor and opportunities for apprentices to complete workplace projects that enable improvements within the organisation.
Funding 
For small and medium businesses that do not pay the apprenticeship levy, the Government funds 95% of the apprenticeship.  The employer pays the other 5% plus the apprentice's wages.  Larger firms that pay the levy can meet 100% of the costs using their levy funds.
Why choose apprenticeships? 
Address skills shortages
Increase staff loyalty, motivation and productivity
Tap into available funding
A way of ensuring quality standards in your business
Why choose TRS? 
Rated excellent by employers for apprenticeships
Expert advice for businesses on apprenticeship funding
Niche manufacturing and logistics industry expertise
Many years experience of successfully delivering apprenticeships
Our trainers can be located onsite at employer premises
Free recruitment service
Further information 
If you have staff you want to enrol on to the Business Administrator Apprenticeship Standard, or you want to recruit apprentices, please contact Andy on 07719 031203 or complete the blue form to the right of this page.
View more information on Institute of Apprenticeships website