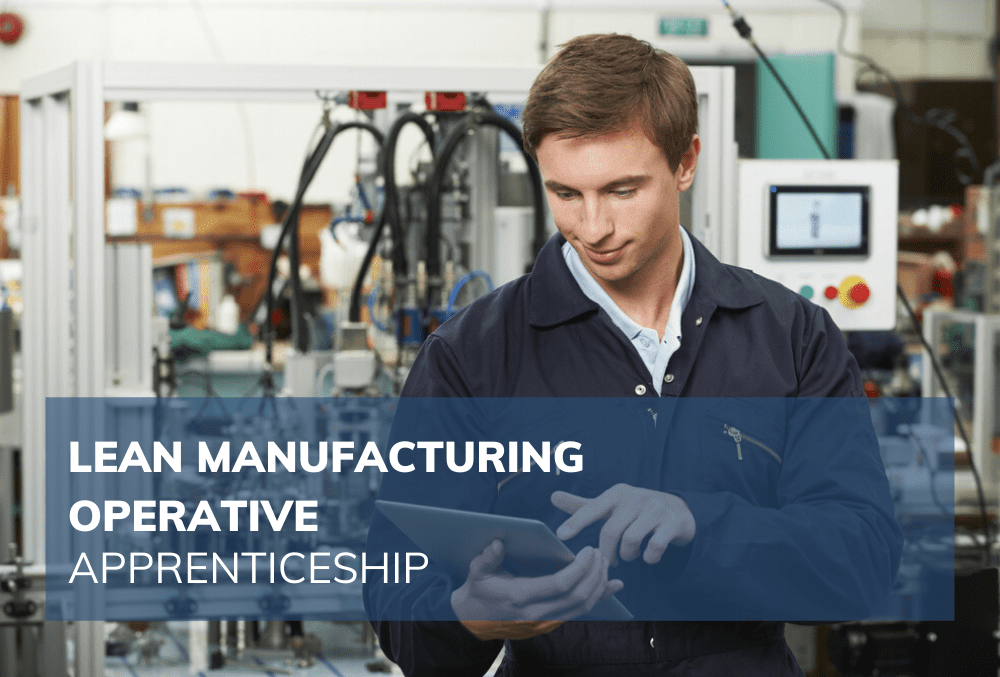 Lean Manufacturing Operative Apprenticeship Standard
The Lean Manufacturing Operative Apprenticeship Standard develops multiple skills in manufacturing employees so they can carry out their work safely and meet precise quality and production standards in a fast-paced and efficient production environment. 
It includes the achievement of a Level 2 Diploma in Manufacturing which gives staff the skills required by someone working in manufacturing.
The training embeds the Lean Six Sigma approach to operational excellence and efficiency in staff.
Structure of Apprenticeship
Phase 1 Initial assessment
A pre-course review is carried out with the candidate to ensure they are working in a role which gives them ample opportunity to develop and practice the skills required by this Apprenticeship Standard. In addition, this review identifies any prior learning and achievement so their training programme can be tailored to their current levels of skills and knowledge, rather than wasting time on training they don't need. Furthermore, the review is an opportunity to identify any additional support they may need in order to complete their apprenticeship.
Phase 2 Training
In this phase, the apprentice undertakes a programme of on and off-the job training consisting of virtual learning, skills practice, work shadowing and other training. These sessions are designed to develop the required skills, knowledge and behaviour to reach the official standard required of a competent lean manufacturing operative. Our training sessions are scheduled around shift patterns and employer's production requirements, our trainers are on hand to offer ongoing support and guidance throughout the apprenticeship.
Phase 3 Gateway
This is another review stage conducted as the Apprentice approaches the end of their apprenticeship. The employee, employer and the TRS Trainer get together to review progress and decide whether any additional training is needed before the apprentice goes forward to their final assessment stage.
Phase 4 End Point Assessment
This is the final stage of the apprenticeship process, where the apprentice is assessed by an independent organisation, to see if they have achieved the required standard of skills, knowledge and professional behaviours. The employee undergoes a knowledge test, and an interview where they have the opportunity to demonstrate their competencies. They will also have the opportunity to share a portfolio of evidence they have collated throughout their apprenticeship.
Training content
By the time they achieve the Lean Manufacturing Apprenticeship Standard, the apprentice will have developed a professional standard of knowledge, skills and behaviours in the following areas:
Health and safety
Environmental
Production
Lean manufacturing operations
Quality control
Problem solving
Continuous improvement
Communication and team work
Workplace organisation
Apprentices also have the opportunity to develop their maths and English skills on the apprenticeship if they have not already achieved level 2 qualifications or equivalent in these subjects.
Duration of Apprenticeship
Typically, 12 to 18 months
Progression options after Apprenticeship
After completion, the Apprentice can go onto apply for team leader and management roles and continue their skills development with a Level 3 Apprenticeship in Team Leading/Management or Level 3 Lean Technician. This could eventually lead to positions such as Quality Assurance, Improvement Manager, Production Manager or Production Director.
Further information
If you have staff you want to enrol onto an apprenticeship in Lean Manufacturing, or you want to recruit apprentices, please contact Kevin on 01744 809 010.