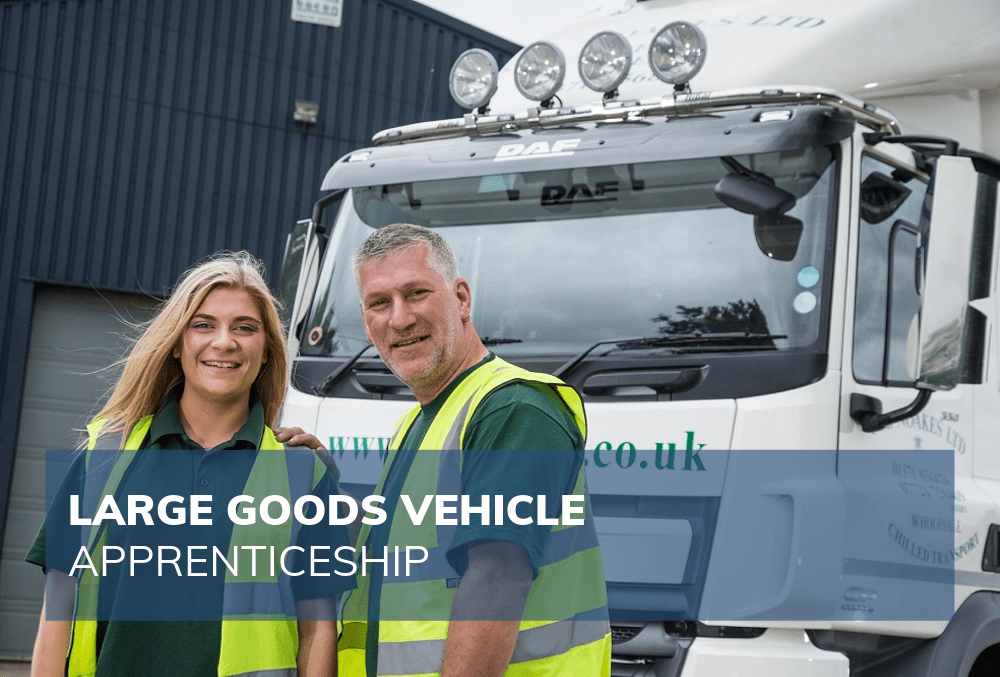 At TRS Training Ltd we go further in fully understanding what it is that our employer clients want to achieve from their training. We work as their partner in delivering on that vision, developing stronger employees who work well as individuals and as part of a team.
The LGV Apprenticeship programme is designed to help drivers get their lorry licence and gain skills to become valued members of an employer's workforce and assist employers who wish to upgrade existing employees' skills and or who want to recruit new staff to fill their vacancies.
Flexible Course delivery
Prior to commencement of enrolling your apprentices, through an initial consultation, we establish employer's needs and desired outcome from the apprenticeship programme. 
During the consultation we discuss the detail of how the programme is delivered and explain employer's commitment to meet the apprenticeship requirements with a view to drawing up an agreement.
LGV Driver Apprenticeship Standard 
The standard consists of:
Application of LGV provisional licence (including medical, if required).
Functional Skills Maths & English support, if required.
Theory Test training, preparing for the DVSA Multiple Choice & Hazard Perception (Module 1) and Driver CPC Case Study (Module 2).
Practical in-cab Driver Training 5 days Course – Cat C (or C+E for existing C holders) leading into DVSA driving test (Module 3).
Driver Training for Driver CPC (either preparation for Module 4 Test or for 35 hours Periodic Training as applicable)
On-site training: 20% Off-The-Job (in work hours) training
Company specific pre-driver training and post- driver training support, mentoring and monitoring.
End Point Assessment (Independent Assessor) towards the conclusion of the programme.
Qualifications
The aim of the apprentice programme is for drivers to gain their Large Goods Vehicle Driving Licence and if not already obtained, their English and Maths Level 2 qualifications. 
For 'B' or 'C1' licence holders the category of LGV will be 'C'.  For existing 'C' holders it will be 'C+E'. 
Duration & Reviews
The apprenticeship lasts a minimum of 12 months, and may follow this example:
Pre-Programme:
Interview (and employer's usual recruitment process)
Introduction to the Apprenticeship Programme
Initial Assessment of English & Maths
Driving Assessment
Completion of Drivers Apprenticeship Agreement
Medical and Provisional Licence Application (if applicable)
Assignment of Mentor (by employer)
Confirmation of Job Offer and Contract of Employment
Month 1-3:
Introduction to Mentor, Housekeeping, Code of Conduct, Tour of Facilities, Job Shadowing, Job Role & Objectives.
Introduction to Training Advisor/Assessor.
Commencement of DVSA theory training.
Complete the DVSA theory training and sitting test at DVSA theory centre.
Functional Skills delivery.
Commencement of work specific training/Observation by Mentor & Training Advisor.
Progress Review
Month 4-9:
Continuation of work specific training/Observation by Mentor & Training Advisor.
5 day Cat C driver training course and test.
Driver CPC (either preparation for Module 4 Test or for 35hrs Periodic Training, as applicable).
Further Functional Skills delivery and progression to obtain qualifications (where applicable).
Progress Review
Month 10-12:
Final Progress Review / Knowledge Test.
End Point Assessment.
Successful Completion. 
Entry Requirements
Apprentices must hold a valid UK driving licence (at least Category B, i.e. car licence) and be at least 18 years old.  There is no upper age limit or restriction.
Our functional skills support assist apprentices without existing English and Maths qualifications achieve Level 2 qualifications prior to their end point assessment.
Find out more
If you are an employer seeking apprentices for an existing programme, or want to work with us to start your own apprenticeship programme please can 01744 809 010