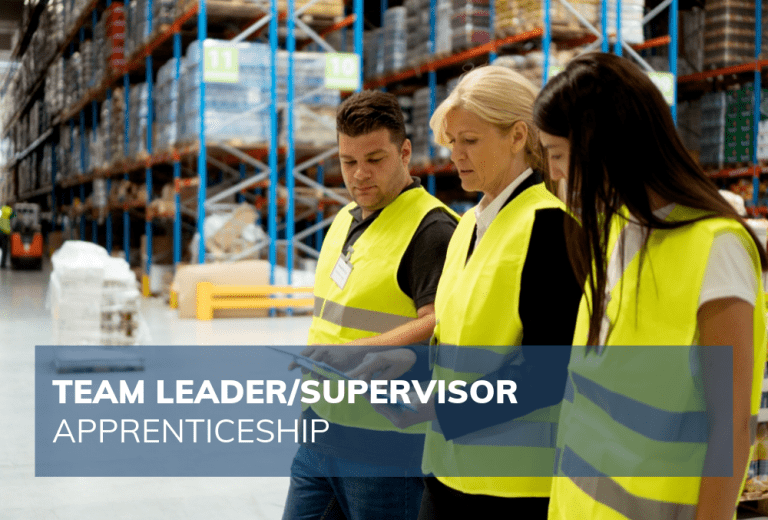 At TRS Training Ltd we go further in fully understanding what it is that our employer clients want to achieve from their training. We work as their partner in delivering on that vision, developing stronger employees who work well as individuals and as part of a team.
This apprenticeship is for team leaders/supervisors with a first line management role in private, public or third sector organisations. They will have operational/project responsibilities or responsibilities for managing a team. Their key responsibilities are likely to include supporting, managing and developing team members, managing projects, planning and monitoring workloads and resources, delivering operational plans, resolving problems, and building relationships internally and externally.
Typical Job Roles: Supervisor, Team Leader, Project Officer, Shift Supervisor, Foreperson, and Shift Manager.
Professional Qualification
Junior managers will additionally be able to select relevant units during the course of their Apprenticeship which leads to the achievement of the CMI Level 3 Diploma in First Line Management.
Employer Commitment
An employer must be prepared to provide the learner with the opportunity to carry out work and be part of projects which will enable the learner to produce substantial evidence towards their qualification.
In order to ensure the successful progression of the learner, we request that employers participate in joint reviews of the learner's progress at regular intervals throughout the apprenticeship. This ensures continued and positive progress through the apprenticeship. It will also provide the opportunity to discuss and agree how any issues are to be resolved and how additional stretching and challenging activities can be built in.
Duration
Typically this apprenticeship will take 12 to 18 months to complete.
Training timeline
We have developed a visual training timeline for the Team Leader Apprenticeship. Click on the graphic below to download this
Training and Support from TRS Training Ltd
During the apprenticeship, the learner will have a dedicated trainer-assessor who will visit them within the workplace at least once per month in order to support their learning, development of competency and generation of evidence. This will also be supported between visits by off-site information, advice, guidance and academic progress support.
The trainer-assessor will work with the learner and the employer in order to ensure that all learning needs are being met for both parties, in order to ensure successful progression against all elements of the apprenticeship. The knowledge modules and professional CMI qualification will require formal teaching sessions which may take place within an appropriate area within the workplace or off-site.
Eligibility
The entry requirement for this apprenticeship will be decided by each employer, but may typically be five GCSEs at Grade C or higher. Apprentices without level 2 English and Maths will need to achieve this level prior to taking the End Point Assessment.
Requirements: Knowledge, Skills and Behaviours
Below are examples of what the Level 3 Team Leader/ Supervisor includes. By selecting specified units, learners can also work towards achievement of the CMI Diploma in First Line Management and in doing so they will also have covered most of the Knowledge and Skills required for the Level 3 Team Leader/Supervisor Standard. Learners will be supported by TRS Training Ltd to achieve this professional qualification alongside the Apprenticeship Standard.
Knowledge and Skills
Interpersonal Excellence – managing people and developing relationships
Leading People – for example understand different leadership styles and develop the skills to support people and improve performance
Managing People – for example understand people and team management models, team dynamics and motivation techniques and develop skills for setting operational and personal goals
Building Relationships – for example, understand approaches to customer and stakeholder relationship management and develop skills for effective negotiation and influencing
Communication – understand different forms of communication and their application and develop the ability and skills to communicate effectively, including chairing meetings
Organisational Performance – delivering results
Operational Management – understand how organisational strategy is developed and learn skills for creating team action plans and organising, prioritising and allocating work
Project Management – understand the project life cycle roles and develop the ability to deliver a project including managing resources, identifying risks and issues
Finance – understanding organisational governance and compliance and how to deliver value for money through budgeting and effective controls
Personal Effectiveness – managing self
Self-Awareness – including how to be self-aware and the ability to reflect on own performance
Management of Self – ability to create an effective personal development plan and use time management techniques
Decision Making – understanding and using  problem solving and decision making techniques, including analysing data to support decision making
Behaviours
Takes Responsibility – developing resilience and accountability, as well as determination when managing difficult situations
Inclusive – being open, approachable and able to build trust with others
Agile – developing flexibility, creativity and innovation skills
Professionalism – being fair, consistent, impartial, open, honest and operating within organisational values
Independent End Point Assessment
To successfully complete the apprenticeship, the learner needs to pass an End Point Assessment. This assessment is an independent review which has several stages:
A knowledge test using scenarios and questions
A structured, competency-based interview
A portfolio – this is a collection of evidence from real work projects
An interview – this is carried out via a face to face or skype call with an assessor from the end point assessment body, to verify the learner's knowledge and competence. The assessor from the end point assessment body will then decide whether to award successful apprentices with a pass, a merit or a distinction.
Professional Recognition
On completion, apprentices may choose to register as Associate Members with the Chartered Management Institute and/or the Institute of Leadership and Management, to support their professional career development and progression.
Find out more
If you are an employer  seeking apprentices for an existing programme, or want to work with TRS Training to start your own Apprenticeship Programme please contact Andy on 07719 031203 or complete the blue form to the right of this page.