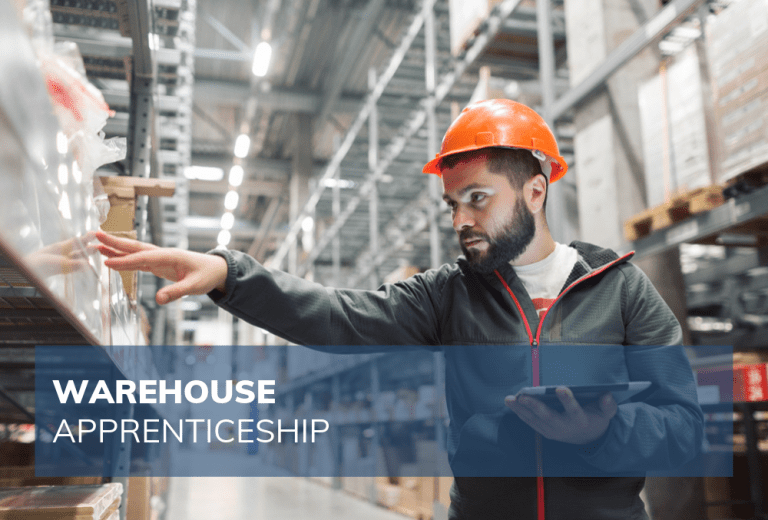 At TRS Training Ltd we go further in fully understanding what it is that our employer clients want to achieve from their training. We work as their partner in delivering on that vision, developing stronger employees who work well as individuals and as part of a team.
This apprenticeship is for warehouse operatives who could be working in a variety of warehouse environments in private, public or third sector organisations or all sizes. Relevant employers include specialist supply chain organisations and non-supply chain organisations.
They will have a passion for meeting customers' expectations by providing a quality service that encourages repeat business.
They will be safely using a range of equipment, machinery and vehicles, as relevant to their role and setting. This could include mechanical racking systems, materials handling equipment (MHE) or fork lift trucks.
Work activities include taking deliveries, checking for damaged/missing items, storing goods, moving stock by various methods, picking/packing orders, loading goods for dispatch, maintaining stock records and documentation, and cleaning.
Role Requirements
Individuals in this role are highly competent in using industry-recognised systems and associated services (e.g. Traffic/Warehouse Management Systems) and will be able to work under pressure to tight deadlines. A Warehouse Operative will often be required to be flexible and work shifts including 4-on-4-off, days, nights, evenings and weekends.
Employer Commitment
An employer must be prepared to provide the learner with the opportunity to carry out work and be part of projects which will enable the learner to produce substantial evidence towards their qualification.
In order to ensure the successful progression of the learner, we request that employers participate in joint reviews of the learner's progress at regular intervals throughout the apprenticeship.
This ensures continued and positive progress through the apprenticeship. It will also provide the opportunity to discuss and agree how any issues are to be resolved and how additional stretching and challenging activities can be built in.
Duration
The duration of this apprenticeship is minimum 12 months and an independent End Point Assessment must be completed at the end in order to pass.
Requirements: Knowledge, Skills and Behaviours
Below are examples of the essential Knowledge, Skills and Behaviours that all Level 2 Warehouse Operatives are required to demonstrate and which will be developed through this Apprenticeship.
Core knowledge and Skills– all Warehouse Operatives will have a good understanding of:
Understand and use safe driving and/or operating techniques as trained, relating to MHE e.g. Counterbalance/Reach Trucks, Powered Pallet Trucks, Order Pickers
Safely and efficiently load and unload items into and from vehicles, buildings, containers, lift vans, crates and/or boxes
Use correct equipment and procedures to record receiving or stowing goods; produce relevant paperwork or labelling processes.
Comply with appropriate rules, regulations and processes
Understand Waste management and be able to prepare and use packaging materials appropriate to the job and in a way which reduces waste, costs and environmental impact
Understand and develop skills for efficient and effective use of warehouse systems and processes
Understanding and using IT applications and other technology for warehousing management, data capture, radio and bar-coding systems, to ensure the safe and efficient processing of goods.
Understand relevant regulation and legislation governing the supply chain industry
Communication skills for communicating effectively with customers and colleagues to identify and meet their needs.
Teamwork and the ability to work individually and as part of a team, including when under pressure, and to agreed deadlines
The importance of delivering excellent customer service
Eligibility
The learner will be required to have or achieve level 1 English and Maths and to have taken level 2 English and Maths tests prior to completion of their Apprenticeship.
Behaviours
Demonstrate integrity, credibility, honesty, positivity and personal drive in every
Take ownership for own performance and training
Show personal commitment to minimising the effect of work activities on the environment.
Adapt to and embrace the use of relevant technology, systems and equipment.
Training and Support from TRS Training Ltd
TRS Training will work with the employer to develop a training plan for the apprentice and our trainer-assessor will visit the apprentice within the work place at least once per month in order to support their learning and development. They will also be supported between visits by off-site information, advice, guidance, academic progress and technical competence support. We will ensure that all learning needs are being met in order to ensure successful progression against all elements of the apprenticeship. The apprentice will be required to demonstrate continuous and sustained progress towards their End Point Assessment (see below).
Independent End Point Assessment
The independent End Point Assessment involves a Short Answer Question and Scenario Test covering Knowledge and Behaviours and a Practical Test on their skills. They are carried out by an independent assessor who will then decide whether to award a pass or a distinction.
Find out more
If you are an employer seeking apprentices for an existing programme, or want to work with TRS Training to start your own Apprenticeship Programme please contact Andy on 07719 031203 or complete the blue form to the right of this page.