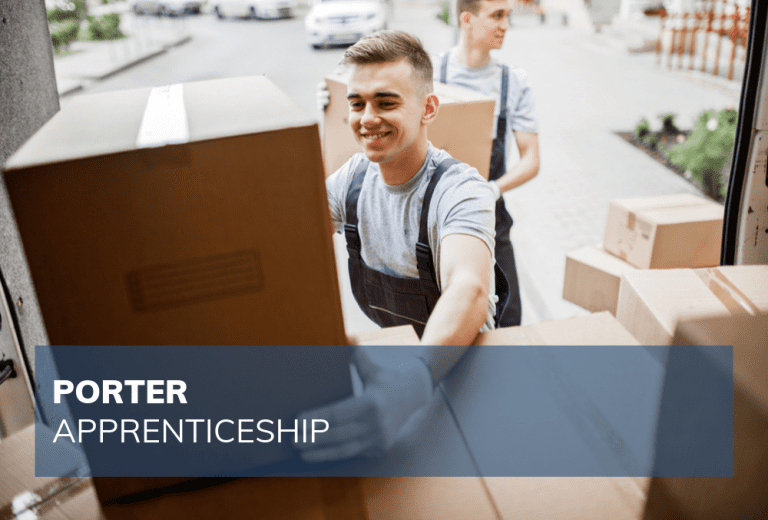 Recruit, train and retain young porters through apprenticeships
TRS Training Limited and the British Association of Removers (BAR) have launched a new programme to help employers recruit and develop promising school leavers into porters and beyond. The programme uses apprenticeships to provide structure and funding for long term staff development strategies. For BAR members, it's an ideal opportunity to expand their staff base using an industry tested formula that taps into available funding and training expertise.
How is the programme structured?
The joint BAR/TRS programme proffers an incremental training and development timeline which starts with recruits enrolling on the Porters Apprenticeship. Whilst developing the necessary skills to become a porter, the candidate also acquires their car driving license and undertakes BAR operations courses.
On successful completion of the Porters Apprenticeship, individuals can progress onto the LGV Driver Apprenticeship. At this point, as well as developing the additional skills required to be an LGV driver, they achieve their Cat C driving license, Cat C+E license if required, and their driver CPC. At the end of the LGV Apprenticeship, there is the option to progress onto the Transport Supervisor/Manager Apprenticeship if appropriate.
Employers may choose to use the programme simply to recruit and train new porters, without progressing them onto LGV and Traffic Office apprenticeships.
What skills do porter apprentices acquire?
Porter apprentices develop the skills, knowledge and behaviours required for the preparation and execution of packing/unpacking and moving household, office and other furniture, goods and equipment into or out of new premises or storage or preparation for transit, both domestically and internationally. They also complete English and maths qualifications if required.
How do apprentices develop their skills?
TRS Training have shaped the Porters Apprenticeship training to meet employers' requirements, minimising disruption to business.  Apprentices are normally required to spend 20% of their working time undergoing what is referred to as "off-the-job" training. In practice, for this particular apprenticeship, this 20% rule is largely met through skills practice, work-shadowing and mentoring which are integrated into the normal, day-to-day, field-based activities of the new recruits. A proportion of the 20% training time will also be spent attending virtual classroom sessions, undertaking their driving test and completing appropriate BAR training courses.
Attracting new recruits
TRS and BAR will be partnering with schools and careers services to raise awareness of the programme. 16 to 18 year olds will be targeted using videos, case studies and other material to highlight the benefits of careers in the removals industry. Current pupils will be targeted in preparation for when they leave school, as well as those who have already left school.
Benefits for employers
The Porters Apprenticeship gives employer the following benefits:
Effective way of recruiting and retaining porters long term
Increases staff loyalty and retention; reduces staff turnover
Programme structured to fund BAR training courses
Apprentice employers report 76% increased productivity
Cost savings in the form of Government funding, NI exemptions
Free professional recruitment service
Roles and responsibilities
When an employer decides to implement apprenticeships within their business, there are four key players who work together to ensure success:
The Employer
Interviews and selects the apprentice if employing a new starter
Provides a genuine job with wages of at least the minimum apprentice rate for their age
Appoints a workplace mentor for the apprentice
Providers opportunity for the apprentice to gain the skills required for the apprenticeship
Ensures the apprentice is able to undertake their 20% off-the-job training
The Apprentice
Commits to working to achieve the apprenticeship
Is punctual, reliable and attends all training sessions
Asks for support from training provider and/or employer when required
TRS Training – the Apprenticeship provider
Promotes the programme, recruits candidates for interview and conducts the first round of interviews if employing a new starter
Plans training around the needs of employer and apprentice
Provides additional training in addition to on-the-job skills practice undertaken by apprentice and virtual learning sessions.
Provides ongoing support to apprentice
Assesses apprentice's progress regularly
Liaises with external agency to arrange final assessment
British Association of Removers
Liaises with TRS Training to keep members up to date with apprenticeships information
Provides training options for apprentices to undertake as part of their 20% off the job training which are relevant to removal businesses
For further information, in the first instance please contact Kevin Birch at TRS Training on 01744 809 010 or email KevinB@trstraining.net