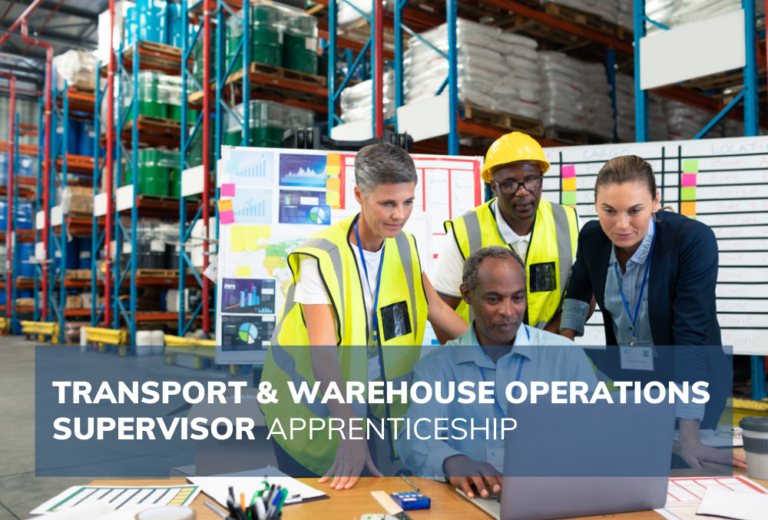 The Transport and Warehouse Operations Supervisor Standard develops the knowledge skills and behaviours for monitoring and supervising transport and warehouse operations. Staff learn how to understand customer contracts, manage staff performance, use it to monitor productivity, ensure compliance, put controls in place to monitor this, and improve their resource planning and project management skills.
What skills do staff develop?
Staff develop professional competence in many areas search as
Understanding and meeting customer service contracts
Developing methods to monitor staff performance and behaviours, including recruitment and resource planning
Understanding how to use IT systems to promote productivity
Developing knowledge of compliance with the environment, health, safety and wellbeing and regulatory requirements
Techniques to monitor and report on the day-to-day operational performance of the supply chain
Developing knowledge and competence of resource planning methods and techniques to ensure budgets and targets are met
Develop organisational improvement techniques and project management skills
Transport supervisors will also achieve a Level 3 transport managers CPC. Warehouse supervisors will develop knowledge and skills of warehouse management operations. Everyone on the apprenticeship will achieve English and maths to level 2 if they haven't already. In addition, they will develop their understanding of safeguarding, wellbeing and professional behaviours.
Duration
12 to 15 months.
Training timelines
We have developed visual training timelines for the two available routes on this apprenticeship: the transport route and the warehouse route. You can download these by clicking on the relevant graphic below.
Structure of Apprenticeship
Phase 1 Initial Assessment
Applicants complete an assessment in English and maths. Their job position must provide the opportunity to gather evidence and develop competence within the standard. TRS will assess their prior knowledge and experience and long-term goals to ensure this apprenticeship is the best option for them.
Phase 2 Training
The apprenticeship is delivered through monthly knowledge sessions, the completion of workplace projects, and one to one tutorials.
Phase 3 Gateway
The gateway is a review stage towards the end of the apprenticeship when the apprentice, employer and TRS trainer get together to see if additional training or skills practice is needed. They will check to see if the apprentice has met all requirements of the apprenticeship and is ready for the end point assessment stage
Phase 4 End Point Assessment
The apprenticeentice is assessed by an independent organisation to determine whether they have passed the apprenticeship and to what standard (either at pass or distinction level).
Progression opportunities
Achievers can apply to be a member of the Chartered Institute of Logistics and Transport CILT.
Achievement of this apprenticeship could lead to a level 5 apprenticeship in Operations Departmental Manager or more specialised transport and warehouse learning routes.
Employer Expectations
Employers must commit to allowing their apprentices to complete at least 20% paid off the job training to complete their studies. They will also need to provide a workplace mentor and opportunities for apprentices to complete workplace projects that enable improvements within the organisation.
Funding
For small and medium businesses that do not pay the apprenticeship levy, the Government funds 95% of the apprenticeship.  The employer pays the other 5% plus the apprentice's wages.  Larger firms that pay the levy can meet 100% of the costs using their levy funds.
Why choose apprenticeships?
Address skills shortages
Increase staff loyalty, motivation and productivity
Tap into available funding
A way of ensuring quality standards in your business
Why choose TRS?
Approved by Government to deliver apprenticeships
Expert advice for businesses on apprenticeship funding
Niche manufacturing and logistics industry expertise
Many years experience of successfully delivering apprenticeships
Our trainers can be located onsite at employer premises
Free recruitment service
Further information
If you have staff you want to enrol onto the Transport & Warehouse Operations Supervisor Apprenticeship Standard, or you want to recruit apprentices, please contact Andy on 07719 031203 or complete the blue form to the right of this page.