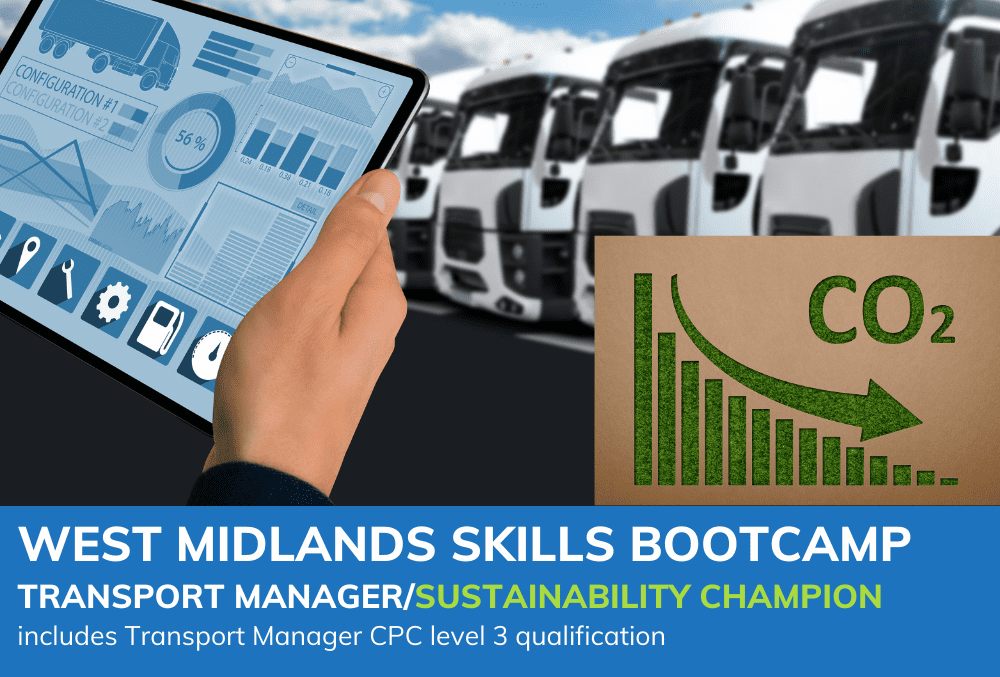 West Midlands Skills Bootcamp: Transport Manager CPC/Sustainability Champion
This course is funded by the West Midlands Combined Authority
TRS is now offering Transport Manager/Sustainability Champion Skills Bootcamps in the West Midlands region. This course is for suitable logistics personnel to gain the transport manager CPC level 3 alongside sustainability skills. The 12-week programme also gives delegates the skills to develop and implement a carbon reduction plan in their company. West Midlands Combined Authority subsidises this Bootcamp course.
Transport Manager CPC and other benefits 
Participants achieve:
SEG Transport Manager CPC level 3 qualification
Skills for developing and implementing an organisational carbon reduction plan
Skills to prepare for potential carbon emissions tax
Skills to identify how to reduce organisational energy costs
The employer benefits from having staff with these skills as well as having 90% of training costs covered by funding.
Eligibility/conditions
To be eligible for course funding, the employer can only enrol staff who live or work in the West Midlands Combined Authority area.
Employer obligations
As the participant's employer, you must agree to:
Release them to attend 2-week transport manager CPC training and three 4-hour carbon literacy sessions.
Give them responsibilities as a transport manager within six months of completing the course. You do not need to create a new job role for them necessarily.
Give them the title & responsibilities of sustainability champion at the end of the course.
Allow them 12 hours in the workplace to develop a carbon reduction plan.
Contribute to feedback on the course.
Cost
This course usually costs £3456. However, West Midlands subsidises the cost (up to 90%). So the cost to employers is as follows:
£345.60 +VAT for employers of less than 250 employees
£1036.80 +VAT for employers of more than 250 employees
How to apply
Employers must put staff members forward for this course. For further details, please contact us using the blue contact form on this page or call Kevin on 07788 120 608.